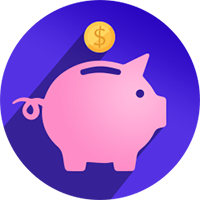 The Student Loan Benefit
Add-On

For Your 401(k) Employer Matching Program
Flexible matching options for a modern workforce.
Keep your existing 401(k) setup! No new budget required!
Offer Employees Best in Class Workforce Perks
We're helping America's best companies free their employees from student loan debt.
Become an employer of choice without increasing your match budget
Use existing company match funds
Add-on to existing benefits package
We're not a bank - We don't sell loans
Built with HR industry best practices
Attract and retain top talent
Contributing to your employees' financial well-being impacts your bottom line, recruitment and retention.
"Most workers with student loan debt (78%) — including 65% of workers over age 55 with current or future loan debt — want their workplace to offer this benefit."
"In addition to easing the burden of debt on our current employees, we believe our commitment to unlocking financial freedom will help us attract and retain top talent."
Boost Your Benefits Today
Get your employees out of financial jail for the price of 2 cups of coffee.
We stay on top of our industry by being experts in yours.